TRAINING VENDOR MANAGEMENT
Training Concept
Training Measurement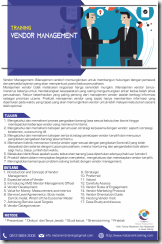 Vendor Management (Manajemen vendor) memungkinkan untuk membangun hubungan dengan pemasok dan penyedia layanan yang akan memperkuat posisi kedua perusahaan.
Manajemen vendor tidak melakukan negosiasi harga serendah mungkin. Manajemen vendor terus-menerus bekerja untuk mendatangkan kesepakatan yang saling menguntungkan antar kedua belah pihak perusahaan. Faktor keberhasilan yang paling penting dari manajemen vendor adalah berbagi informasi sebagai prioritas utama. Praktek manajemen vendor yang tepat hanya memberikan informasi yang diperlukan pada waktu yang tepat yang akan memungkinkan vendor untuk lebih melayani kebutuhan secara lebih optimal.
TUJUAN DAN MANFAAT PELATIHAN training vendor management terbaru
Setelah mengikuti pelatihan ini, peserta diharapkan mampu untuk :
1. Mengetahui dan memahami proses pengadaan barang/ jasa sesuai kebutuhan bisnis hingga mendapatkan beberapa vendor yang memenuhi kriteria.
2. Mengetahui dan memahami tahapan perumusan strategi kerjasama dengan vendor, seperti strategi kolaborasi, outsourcing dll.
3. Mengetahui dan memahami tahapan serta strategi penetapan vendor terpilih dan menyusun pengikatan pengadaan barang/ jasa tertentu.
4. Memahami teknik memonitor kinerja vendor agar sesuai dengan pengikatan (kontrak) yang telah disepakati dan selaras dengan tujuan perusahaan, melalui montoring dan pengendalian baik dalam segi mutu, biaya, jumlah dan waktu.
5. Melakukan identifikasi apakah suatu kebutuhan barang/ jasa diperlukan adanya pihak luar (vendor).
6. Proaktif dalam dalam menyiapkan kegiatan menyeleksi, mengevaluasi dan menetapkan vendor terpilih.
7. Meningkatkan kemampuan problem solving terkait dengan vendor management.
MATERI PELATIHAN training concept terbaru
1. Introduction and Concept of Vendor Management
2. Expected value of Vendor
Training Pemasok
Training Audit
PENGANTAR PELATIHAN : training vendor partnership development program terbaru
Strategi pengelolaan vendor perusahaan yang efektif dan efisien, senantiasa akan memberikan nilai tambah sekaligus meningkatkan daya saing perusahaan. Di era kompetisi bisnis dewasa ini, pengelolaan vendor menjadi sangat signifikan.
Biaya material di hampir semua perusahaan manufaktur berkisar antara 40% dan 80% dari harga pokok penjualan (Cost of Goods Sold). Oleh karena itu, salah satu penekanan biaya produksi harus difokuskan pada proses pengadaan material.
Program vendor management ini mencakup bagaimana melakukan seleksi vendor yang efektif, vendor evaluation, vendor development dan improvement, serta vendor audit dan monitoring kinerjanya.
Sasaran Training training pemasok terbaru
* Memahami cara menerapkan program vendor management secara efektif
* Memahami pelaksanaan vendor evaluation, vendor development, dan vendor audit serta monitoring kinerjanya.
* Memahami cara menyusun dan mengembangkan program mendokumentasikan program evaluasi pemasok
Metode Training training audit murah
Pelatihan ini menggunakan metode interaktif, dimana peserta dikenalkan kepada konsep, diberikan contoh aplikasinya, berlatih menggunakan konsep, mendiskusikan proses dan hasil latihan.
Topik Bahasan training audit terbaru
* Vendor selection yang efektif
* Alasan penerapan evaluasi pemasok
* Kebijakan dan metodologi evaluasi pemasok
* Kriteria evaluasi dan analisa keputusan
* Vendor development dan improvement
* Kerjasama antar vendor
* Coaching skill for vendor improvement
* Vendor audit dan monitoring
* Menjalankan audit mutu pemasok
* Pengembangan kompetensi vendor
JADWAL PELATIHAN MATARAMTRAINING.COM TAHUN 2023 :
Batch 1 : 24 – 26 Januari 2023
Batch 2 : 14 – 16 Februari 2023
Batch 3 : 20 – 23 Maret 2023
Batch 4 : 14 – 6 April 2023
Batch 5 : 15 – 17 Mei 2023
Batch 6 : 26 – 28 Juni 2023
Batch 7 : 17 – 19 Juli 2023
Batch 8 : 14 – 16 Agustus 2023
Batch 9 : 25 – 27 September 2023
Batch 10 : 10 – 12 Oktober 2023
Batch 11 : 7 – 9 November 2023
Batch 12 : 5 – 7 Desember 2023
3. Introducing VMO (Vendor Management Office)
4. Vendor Development
5. Value for Money: Measurement and metrics
6. Service Level Agreements: Stick model, Carrot model, Wrath of the Customer Model
7. Achieving Service Level Targets
8. Vendor Categorization
9. Strategic
10. Preferred
11. Valued
12. Carefully Assess
13. Vendor Rules of Engagement
14. Vendor Marketing Protocol
15. Vendor Orientation Guide
16. Hosting Vendor Visit
17. Case Study and discuss
METODE PELATIHAN training measurement murah
* Presentasi
* Diskusi dan Tanya Jawab
* Studi kasus
* Brainstorming
* Praktek
JADWAL PELATIHAN MATARAMTRAINING.COM TAHUN 2023 :
Batch 1 : 24 – 26 Januari 2023
Batch 2 : 14 – 16 Februari 2023
Batch 3 : 20 – 23 Maret 2023
Batch 4 : 14 – 6 April 2023
Batch 5 : 15 – 17 Mei 2023
Batch 6 : 26 – 28 Juni 2023
Batch 7 : 17 – 19 Juli 2023
Batch 8 : 14 – 16 Agustus 2023
Batch 9 : 25 – 27 September 2023
Batch 10 : 10 – 12 Oktober 2023
Batch 11 : 7 – 9 November 2023
Batch 12 : 5 – 7 Desember 2023